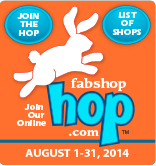 Thank you for visiting The Stitching Post! We are an independent quilt
fabric store, in southwestern Indiana, specializing in Riley Blake, Kansas Troubles, 3 Sisters, Jo Morton, Nancy Halvorsen, Batiks and Reproduction fabrics from the 19th century to 1930's. Lots of Moda, Riley Blake, Benartex, Hoffman, and other fabrics can also be found in our store! We invite you to check them out as you browse through our site! Please bookmark The Stitching Post for future reference and check back often, as we add new fabrics frequently.

If you are hunting for MS. BUNNY of the AUGUST 2014 FABSHOP HOP, she just
stepped into the "Way Back" time machine so she can visit the 1930's for some "PLAY TIME."

If you are still searching for MS. BUNNY of the JULY 2014 FABSHOP HOP, she is seeking VETERANS of the MILITARY. She is thanking them for the freedoms we enjoy, made possible by the risks they took and sacrifices they made! It's a MILITARY SALUTE!!! She knows "Freedom Is Not Free!"

BEST REGARDS!!!

Mary Dell Memering, Owner
The Stitching Post – Your Country Quilt Store
<> 812-254-6063 <>
401 E. Main, Washington, IN 47501
www.stitchingpostquilts.com

$6.00 FLAT RATE SHIPPING FEE FOR ALL US ORDERS! EMAIL FOR INTERNATIONAL RATES!
The Stitching Post
401 E Main Street
Washington, Indiana 47501
812-254-6063
Store Hours: Monday thru Saturday 10-5
Internet Hours: 24 hours a day, 7 days a week
---
Web Site Design & Programming by
Key to the Web,LLC ©